| | | |
| --- | --- | --- |
| Mistras Group | This course is intended to provide the advanced user or would-be user with a scientific understanding of the information conveyed in the classic AE features, along with insights and tools that will help to use them more effectively | |
Caliperay

Wireless UT Thickness Node

CALIPERAY™ is a permanently-mounted ultrasonic (UT) remote thickness tracking system used to monitor piping and vessel wall thickness in high-temperature and difficult-to-access locations.
CALIPERAY™ | REMOTE THICKNESS TRACKING
AUTOMATED ULTRASONIC THICKNESS DATA ANALYSIS
High-temperature, hard-to-reach locations are not tested as often as they should be. Without adequate testing, plant operators have little-to-no warning of developing problems arising from corrosion and erosion – a costly surprise.
Traditional ultrasonic thickness testing (UTT) methods for determining corrosion and erosion on piping and vessel walls can be challenging to execute at times. It can often be difficult for technicians to access assets in potentially hazardous locations, and manual measurements have to contend with changes in surface conditions, technology and equipment.
The CALIPERAY™ remote thickness tracking system makes it easy for operators to stay on top of their asset integrity and maintenance by utilizing permanently installed ultrasonic sensors to remotely, quickly and accurately monitor corrosion and erosion.

The thickness transducers make up a wireless mesh network. As they collect data from the piping or vessel walls, they both receive and transmit information through the rest of the network until it reaches the Smart Wireless Gateway, where it is then transferred to the host computer. The wireless mesh allows CALIPERAY™ to seamlessly merge with on-site and remote network equipment.
The mesh network is self-healing and self-organizing, so if there is ever an interruption in the network, such as a temporary or even permanent obstacle, the transducers will simply find another path to the gateway. This smart sensor network makes it easier to install the network, streamlines the collection of data, and ensures higher reliability and lower maintenance.
CERTIFICATIONS
 
The CALIPERAY™ system holds many top tier certifications: IS/Class I, Division 1, Groups A/B/C/D; AEx ia for Class I, Zone 0, Group IIC (US); Ex ia for Class I, Zone 0, Group IIC (CA); T4 for -55°C ≤ Ta ≤ +55°C; IP66; Ex ia IIC T4 for -55°C ≤ Ta ≤ +55°C; IP66; FM15ATEX0043X APPROVED.
GENERAL
Manufacturer: MISTRAS Group, Inc.
Product Line: CALIPERAY™ Thickness Trackers
Reference Name: 1616 Wireless UT Node
Model Number: 1616-5015 (IS Certified)
Multiplexer: 4-Channel for single or dual crystal transducers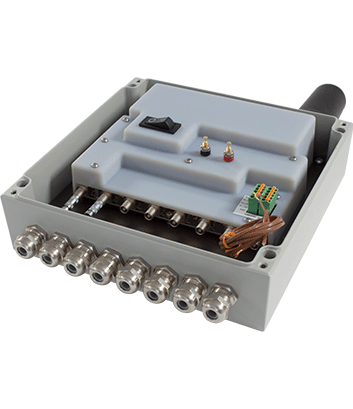 Battery Life: Up to 5-Years at 1 measurement per day
Temperature Range: -28°C to +55°C
Made in USA
SENSORS
SINGLE CRYSTAL SENSOR (ISSUT5M-HT)
Operational Frequency Range: 3 - 5 MHz
Shock Limit: 10,000 g
Surface Temperature: -55°C to 350°C
Sensor Material: Stainless Steel 316
Connector Type: LEMO 00
Connector Location: Side
Sensor Type: Contact, Delay
Seal Type: Laser Welded
Sensor Height: 1.5 inches
Sensor Diameter: 0.75 inches
Delay Line: 1 inch
Cable Type: 1' hard line + 2M (6.6') soft line
DUAL CRYSTAL SENSOR (ISDUT5M)
Operational Frequency Range: 5 MHz
Surface Temperature: -55°C - 150°C
Shock Limit: 10,000 g
Sensor Material: Stainless Steel 304/316
Connector Type: LEMO 00
Connector Location: Side
Sensor Type: Contact
Seal Type: IP66
Sensor Height: 0.934 inches
Sensor Diameter: 0.65 inches
Cable Length: 2M (6.6')
SOFTWARE
The tracking system is compatible with several types of data-analyzing software. The CALIPERAY™ web application will track and store data as it comes into the host computer, and the wireless network can be integrated into whatever top-tier inspection database management software (IDMS) an organization may already have in-house. In addition, MISTRAS offers its own Plant Condition Monitoring Software (PCMS®).
Once the information is on the host computer, these software systems provide immediate automated data analysis. They offer information on corrosion rates, track data over time to reveal trends, determine risk, and instruct engineers when further inspection is required. Software systems such as these enable technicians to make timely, well-informed decisions when immediate action needs to be taken.

Rendered in 0.0431 sec